Bij binnenkomst in het Belevingscentrum van Rever Interieurprojecten stap je direct een totaal nieuwe wereld in. Het interieur leeft, het is huiselijk én professioneel tegelijk. Een groter contrast met buiten kun je je bijna niet voorstellen. Want buiten ziet industrieterrein Lageweide in Utrecht er grijs en enigszins verlaten uit. De plek waar het Living Buildings interview plaatsvindt met senior projectconsultant Anita Roelvink. En een werkomgeving die essentieel kan zijn in 'the war on talent'.
Anita Roelvink: "Interieur belangrijke factor in 'the war on talent'!"
Circle of Life
Anita straalt plezier uit. "Ik heb echt de allerleukste baan die ik me maar kan wensen. Elke dag mag ik werken aan werkomgevingen waar mensen blij van worden." Vol enthousiasme begint ze te vertellen over het Circle of Life concept met de 5 C's. Die staan voor cultuur, creativiteit, continuïteit, co-creatie & clubhuis. Zo is de kroeg (zie foto) het clubhuis van Rever. "Setting is everything. De omgeving doet iets met je. Het is belangrijk om een centrale en informele ontmoetingsplaats te creëren."
Integrale benadering
Alle elementen van de Circle of Life komen in haar bevlogen verhaal terug en laten zien dat ze voor een totaalaanpak gaan. "Volgens onze opdrachtgevers zijn wij onderscheidend doordat we een integrale benadering hanteren. We achterhalen hun wensen & behoeften, door ook de vraag achter de vraag te stellen. Zij waarderen ons doordat we alle elementen, zoals cultuur, waarden en historie, ook echt laten terugkomen." Als voorbeeld geeft Anita aan dat ze karpetten met afbeeldingen van de Dom in het interieur laten terugkomen bij de Gemeente Utrecht.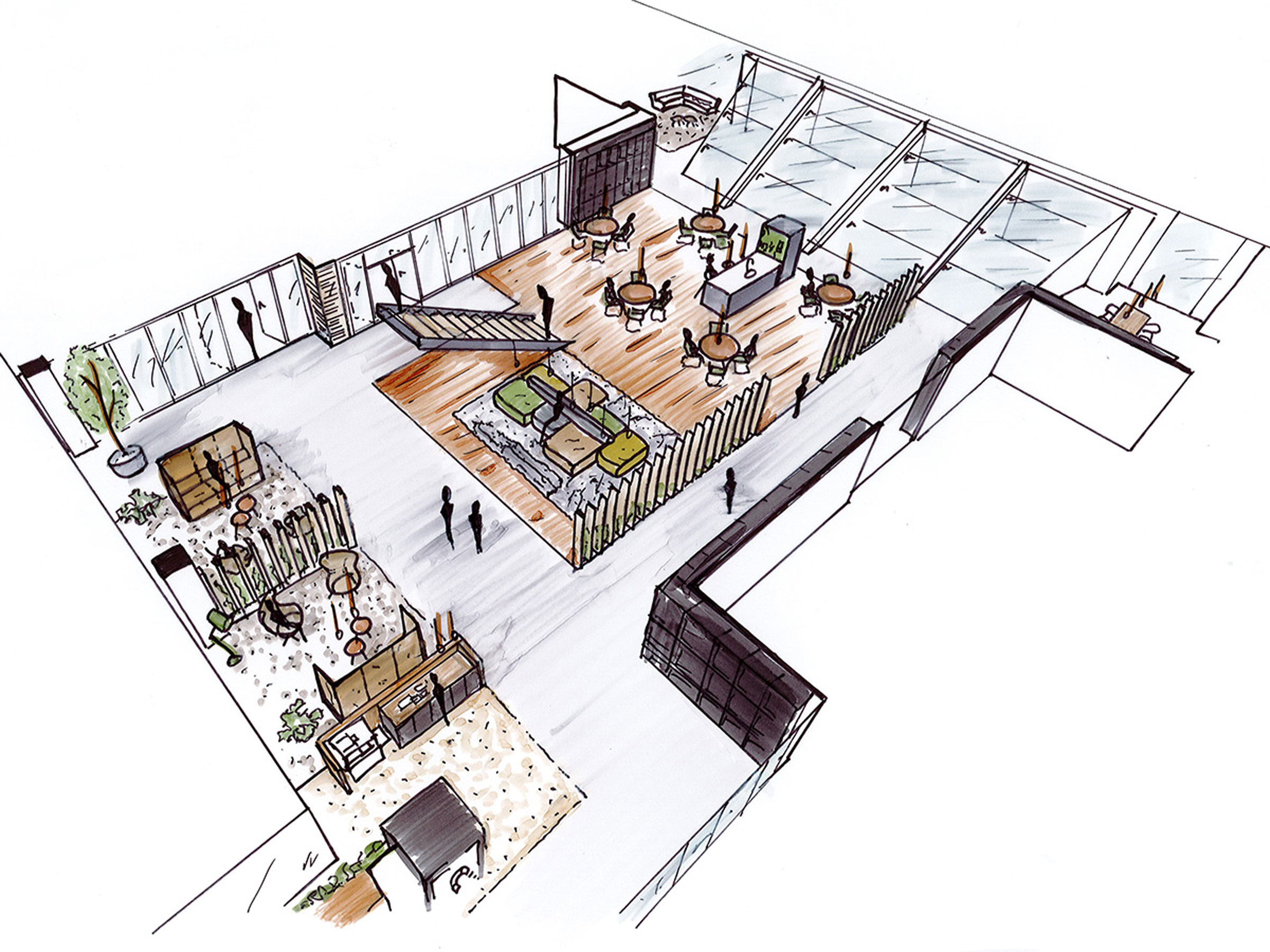 Vitaal en duurzaam
"Bij de interieurs die wij realiseren staat de mens centraal en gelukkig vragen ook steeds meer organisaties hierom. Met name als het gaat om vitaliteit. We doen daarom ook vaak een nulmeting, vragen naar de emoties van de mensen en spelen daarop in. Als er te weinig vergaderplekken zijn, creëren we meer informele settings." Op de vraag of duurzaamheid een rol speelt, antwoordt Anita: "Dat verschilt per opdrachtgever. Wij brengen duurzaamheid altijd ter sprake als onderdeel van de Circle of Life en nemen ze mee in een journey. We laten graag voorbeelden zien, zoals ook in ons belevingscentrum." Anita verwacht ook veel van INSIDE/INSIDE, een nieuwe, onafhankelijke tool die de duurzaamheid van een interieur meet. En ze vindt ook de opkomst van het WELL keurmerk een goede ontwikkeling.
Ruimte voor projectgroepen
"In de aanvragen die we binnenkrijgen, zien we dat steeds meer opdrachtgevers hun interieur willen aanpassen om de werkprocessen te ondersteunen. Door ontwikkelingen zoals agile, scrum en lean is er veel vraag naar ruimtes voor projectgroepen." Een andere belangrijke ontwikkeling die ze tijdens het gesprek aankaart is ICT. "Het gebouw moet voor je gaan werken, mede door sensoren en mobiele applicaties op je telefoon."
Meerdere generaties op de werkvloer
"Het werken in projectteams is eigenlijk geen trend, maar meer een beweging. De nieuwe generaties zijn door hun studies steeds meer gewend om in projectteams te werken. Tegelijkertijd zien we op
dit moment 4 à 5 generaties op de werkvloer." Anita geeft aan dat ze het een geweldige uitdaging vindt om voor al deze generaties "een werkplek met funfactor" te creëren.
War on talent
"Een van de belangrijkste redenen waarom opdrachtgevers met hun interieur aan de slag gaan is om personeel te behouden en nieuwe jonge professionals te werven. Ze willen zich daarmee onderscheiden in 'the war on talent'." Ze voegt daaraan toe dat voor de huidige generatie duurzaamheid in de keuze voor een werkgever ook belangrijk is.
Stip op de horizon
Anita merkt op dat veel organisaties met duurzaamheid bezig willen zijn en ook de stip op de horizon zien. "Maar de invulling van de weg er naartoe is niet eenduidig. De piketpaaltjes op die weg zijn voor iedereen anders." Ze geeft aan dat vanuit haar perspectief Living Buildings vooral staat voor een integrale en mensgerichte benadering in een duurzame en vitale gebouwde omgeving.
Investeren in de mens
Anita vermeldt dat ze vanuit Rever jaarlijks diverse inspiratiesessies organiseren om te laten zien wat voor enorme impact een goede werkomgeving op de mens heeft. "Investeren in de mens heeft een positief bedrijfsresultaat tot gevolg. En dat zorgt voor continuïteit van organisaties." Tot slot nodigt ze iedereen uit om een keer een kijkje te nemen in hun belevingscentrum. "Wees welkom!"
Na afloop van het interview geeft Anita nog een rondleiding door het belevingscentrum. We staan even stil bij het tentoongestelde maatpak. Ze geeft daarbij aan "Bij elke project ga ik voor maatwerk. Een werkomgeving die past bij de werkprocessen en identiteit van mijn opdrachtgever."
Foto's: Ferdinand Wieman en Rever Interieurprojecten
Dit Living Buildings artikel is exclusief gepubliceerd in Bouw & Uitvoering.