Wie Lodewijk Hoekstra zegt, denkt gelijk aan Nederlands bekendste tv-tuinman. Hij presenteerde jarenlang 'Eigen Huis en Tuin' en sinds juli 2018 'De Grote Tuinverbouwing'. Wat velen niet weten, is dat Lodewijk naast tuinman ook ondernemer en een groot voorvechter is van een duurzame wereld. In dit Living Buildings Expertinterview deelt hij zijn integrale visie op de toekomst van vastgoed. Lodewijk is er namelijk van overtuigd dat de komende jaren de impact van de natuur op de vastgoedwaarde groter zal worden dan ooit!
Sluitstuk in begroting
Volgens Lodewijk zijn groen en de natuur vaak nog het sluitstuk in de begroting. Terwijl de waarde van het vastgoed gemiddeld maar liefst 10 tot 15% stijgt in een groene omgeving. Men moet dan ook goed nadenken over de interactie tussen het gebouw en zijn omgeving. Lodewijk: "We stellen ons als groene sector nog veel te bescheiden op. De rol van de groenvoorziener is velen malen belangrijker dan men denkt!"
Groen is vaak niet 'groen'
Volgens Lodewijk kan er nog veel verbeterd worden aan het kennisniveau over groen, over de natuur én de impact daarvan op vastgoed. Hij vindt dat bouw- en vastgoedprofessionals nog te veel met 'de stenen' zelf bezig zijn. Dit, terwijl de waarde van het vastgoed aantoonbaar verhoogt, door te investeren in vergroening van de directe leefomgeving. "Architecten gaan momenteel helemaal 'los' met groen. Maar wat velen zich niet realiseren is, dat het gebruikte groen, vaak helemaal niet 'groen' is. Veel beplanting is bijvoorbeeld niet duurzaam gekweekt", aldus Lodewijk.
Integraal en biobased
Lodewijk wil voorkomen dat de inzet van groen beperkt blijft tot een 'groene spread'. Hij voorziet dat alleen een integrale aanpak met biobased solutions voor de natuur en het groen, toekomstbestendig is voor de waardevermeerdering van het vastgoed. Lodewijk vindt Park 20|20 in Hoofddorp een uitstekend voorbeeld van die samenwerking tussen
vastgoed- en groenprofessionals. De meeste vastgoedprofessionals kunnen daar nog veel van leren.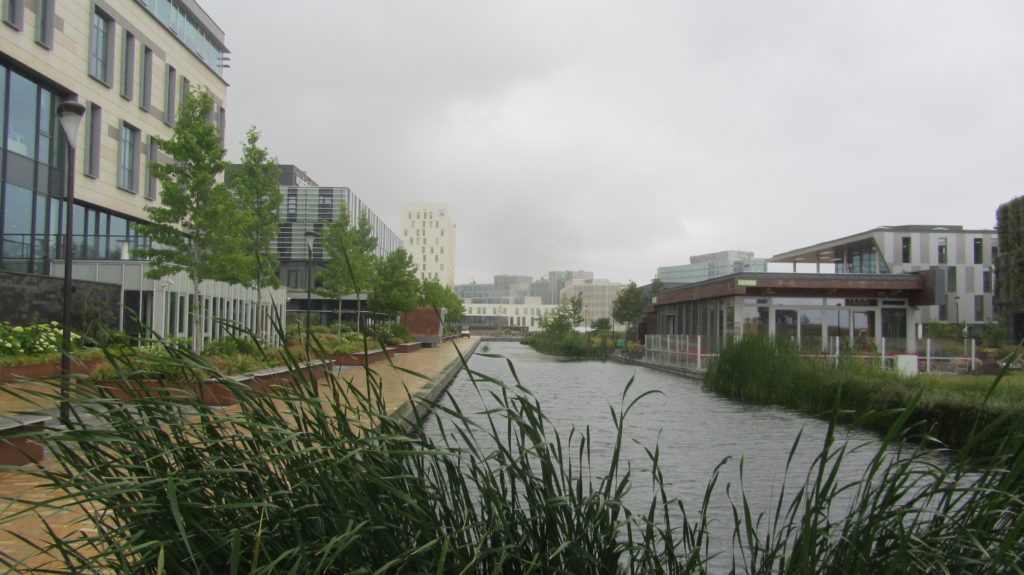 Meten is weten
Vastgoedbedrijven willen er natuurlijk zeker van kunnen zijn, dat de waarde van hun vastgoed ook daadwerkelijk vermeerdert, door te investeren in groen en de natuur. Centrale vraag is hoe deze groene impact op gebouwen meetbaar en financieel kwantificeerbaar gemaakt kan worden. Nico Wissing, tuin- en landschapsarchitect en Lodewijk Hoekstra hebben in 2012 rondom dit vraagstuk de krachten gebundeld in NL Greenlabel. Zij maken de leefomgeving duurzaam en meetbaar met het NL Gebiedslabel. Op productniveau doen zij dat met het Duurzaamheidspaspoort.
Proces belangrijker dan label
Lodewijk: "Het gaat er niet eens zozeer om, dat je een label behaalt. Of dat nu van BREEAM, NL Greenlabel of van een andere organisatie is. Het proces dat het bedrijf daarbij doorloopt is vele malen belangrijker!" Hij is blij dat steeds meer bouw- en vastgoedbedrijven, zoals Heijmans en Ballast Nedam, een integrale aanpak nastreven en die duurzame stappen in de leefomgeving aan het zetten zijn. Niet omdat het wettelijk moet, maar omdat ze ervan overtuigd zijn. Lodewijk: "De mens, het milieu én het
vastgoed zullen alleen dán toekomstbestendig zijn, als er vanaf nu alleen nog natuurinclusief gebouwd én geëxploiteerd zal worden. Samen duurzaam op weg naar Living Buildings dus!"
Living Buildings interviewreeks
Om meer aandacht te vragen voor Living Buildings interviewen Ferdinand Wieman en Mariëlle Wieman experts die hiermee bezig zijn. Living Buildings staat voor een holistische en integrale benadering van gebouwen. Waarbij gebouwen een positief en duurzaam effect hebben op de mens, haar leefomgeving en de wereld. In deze interviewreeks belichten zij de inspanningen en resultaten van die betrokken stakeholders. Ieder vanuit zijn of haar expertise.